If you really enjoy old farm tractors, stop and stay awhile.
Some of these links are really entertaining and all are informative.
If you would like to add your link, just let me know.
I love to visit
Moyer's Fuel Tank Renu This is my page. Moyer's Fuel Tank Renu will repair and restore any gasoline or diesel fuel tank regardless of age or condition. NO RUST lifetime nationwide warranty. Before and after pictures of a fuel tank sent to us from Texas. This is my favorite restoration.



Everything Farm Equipment

Omar Associates LLC Shop tools for classic farm tractors For more than twenty years our family has been operating and repairing International Harvester tractors. Based on our experience, we have engineered shop equipment that can make any restoration project fast and easy. Our rugged design and practical application make Omar's tools the best in the antique restoration business.
POR-15 Shop-Paint Over Rust Por-15 is a moisture cured, high performance rust preventative coating that won't crack, chip or peel. High-Temperature coatings also available. Many uses for autos, home, marine and industry.
Valu-Bilt Tractor Parts The Largest Selection of Tractor Parts in the U.S.A.
Todd's Tractor Page Featuring the John Deere 40 Utility
Grandads Allis Chalmers WC Rest Home (I adopt homeless WCs)
Rock Ridge Farm We have access to many hard to find parts for pre 1950 Tractors.
The Harrolds at Home Welcome ... welcome to the website of Aubrey and Christine Harrold.
Gary Dougherty's Antique Tractor Page Gary has a lot of nice pictures and even a little scripture for us
Tractor-Radiators.com carries tractor radiators to fit the following manufacturers: Agco/Allis Chalmers, Case/ International Harvester, John Deere, Ford, Massey Ferguson, Oliver & White.
Paynesville Tractor Parts Specialty is used tractor parts, but also carry used combine and used machinery parts
Dennis Franz Don't miss the chance to become the owner of one of these hand made, running scale model tractors. If you are a serious collector and want to be the hit of any show, you'll definitely want to consider adding one of these treasures to your collection. These tractors are built exactly like the originals.
What's New on The CJ3B Page: What's a CJ-3B Anyway?
Adirondack Dodge Parts & Military Surplus We are your one source and world wide distributor of new, used and remanufactured parts for the indestructible Dodge M37 line of military vehicles. Also included in our inventory is line of military surplus, camping and survivalist gear.
HAND CRAFTED GIFTS
Pine Hollow Pottery Hand built pottery, porcelain vases, masks, plates, wall hangings and Holiday pieces. Unique porcelain handcrafted by Pennsylvania artists.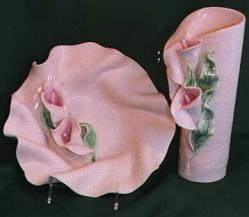 Antique vintage tractor restoration