GAS TANK RENU
1-800-328-9550
Restoration of motorcycle gas tanks.


After assessing the condition of the gas tank, we will call you with an exact cost for the restoration of your gas tank. If you prefer not to continue with the process, we shall return your tank immediately.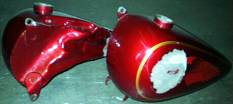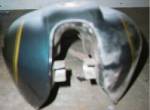 The tank will go into our oven and bake until ALL fumes are completely eliminated and the tank will be safe to process.

If any after-market coating material has been used in the tank, it will need to be burned out before proceeding. The pour in solution does not solve the rust problem and adds to our preparation time.

The exterior will be blasted to remove all paint, rust body filler, etc....


We assess the tank configuration to determine the best possible method of accessing the interior to blast, removing all contaminates to the bare metal. This will involve removing part of the tank.



The inside and the outside will be thoroughly blasted. Nothing sticks to rust, not even Renu

The removed part of the tank will be welded back in place and all welds will be ground down to help hide the welds. The welds will also be blasted to rough up enough for the Renu to make a secure bond.

After all blasting residue is blown out of the tank and it is totally clean, a thick Renu product is brushed on welds and pinholes and feathered out to ensure an even finish. It is then baked in our oven to harden.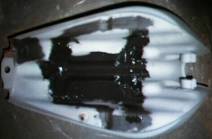 Once cooled, the holes are taped and the tank is filled with Red Renu interior product and rolled to ensure a good even coating inside the tank. The excess is poured out and the tank is baked to set the interior coating. Notice the coating material inside the tank on the right.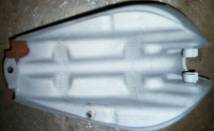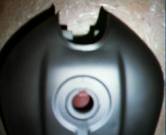 After cooling, the bottom half of the tank to the seam will be coated with the Black Renu exterior product and baked a third time. This completes the Renu process. Your tank will never rust inside. We give you a two year warranty against rust and leaks.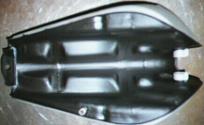 When the tank is cool it will be checked over and 2 coats of Primer will be applied to the TOP half to ensure it will not rust before you have it painted. We accept no responsibility for the painting of your tank. We only guarantee against rust and leaks.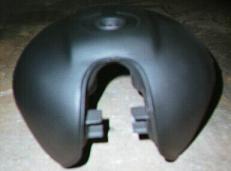 INSTRUCTIONS FOR PAINTING YOUR TANK
Lightly hand sand surface to roughen with 180 or finer grit sandpaper. Apply 2 coats of lacquer primer. This should dry quickly. Then finish with paint of your choice.
Do not use lacquer thinner at any time.

We cannot see under paint and cannot tell if there is body filler applied to the tank. If filler is present it must be blasted off because the oven temperature will detach putty from tank. The process will be done as usual and primed. Whoever does the final painting will be responsible for replacing any necessary body filler.

For information on shipping: check out our ANSWER page
Go to HARDCOPY and send with your tank
Average $ for the complete process for bike tank is $300 to $395 depending on condition and repairs needed.

Thank you and please feel free to call or e-mail at any time
Joseph Moyer
Moyer's Fuel Tank Renu
2011 Western Avenue
Greensburg, PA 15601
1-800-328-9550
Please check out my links, and let me know if you find an interesting site that I don't have.
Reciprocal links welcome.
Looking for a Unique gift for someone special?

Pine Hollow Pottery will hand craft and personalize